What are the Best Feminine Wipes?
What are the Best Feminine Wipes?
Feminine wipes are wet wipes created especially for your intimate areas. Unlike baby wet wipes or other types of personal care wet wipes, they help you maintain cleanliness and freshness without disturbing the pH balance around your most delicate skin.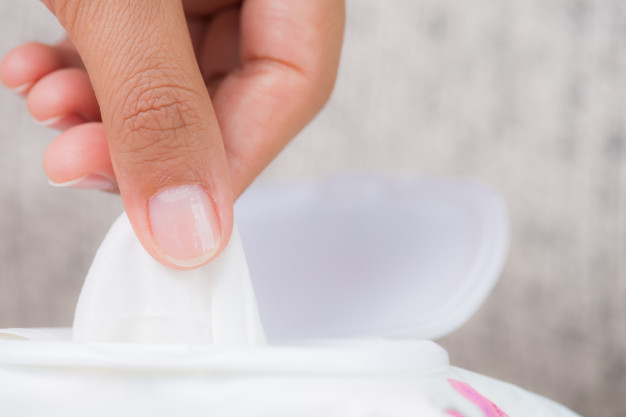 It was a very difficult task to find 100% natural feminine wipes among hundreds of products that claim to be chemical free but are not. Many feminine wipes contain glycerin, a compound that can trigger a yeast infection, or parabens, compounds linked to cancer. I ended up with a list of six feminine wipes that I can truly recommend. Have a look at my picks:
pH-W Personal Hygiene Wipes
pH-W Feminine Wipes contain naturally antibacterial and antifungal ingredients, such as tea tree oil and coconut oil. It's got no alcohol and the manufacturer claims it's safe to use in all areas of your body. It contains Amezol, a drug with antibacterial and antiparasitic properties. According to the manufacturer, Amezol is completely safe and non-toxic.
Pros:
All pH-W Feminine Wipes' ingredients, apart from Amezol, are 100% natural.
It's got a pleasant tea tree oil smell.
It contains naturally antifungal and antibacterial ingredients, such as tea tree oil and coconut oil.
Parabens and alcohol-free
Cons:
According to some users, the wipes have got an unpleasant smell
The packaging may be too big to carry in a purse
Ingredients: Arnica montana, natrum muriaticum, tea tree oil, aloe, coconut oil, Amezol, and specialty amino acid compounds, purified water
I also found two feminine wipes, which although they contain some potentially toxic chemicals, are still considered safe by EWG's Skin Deep, an organization dedicated to measuring the toxicity and safety of cosmetics.
Swipes Lovin Wipes
Swipes Lovin Wipes are flushable, made of biodegradable material and free from alcohol, parabens and other harsh chemicals.
Pros:
Flushable and biodegradable
Parabens- and alcohol-free
Enhanced with aloe vera to help prevent fungal and bacterial infections
They contain vitamin E.
They have a pleasant delicate smell and will definitely help you feel fresh and clean again.
Cons:
Ingredients: Purified Water, Aloe Vera Leaf Juice, Glycerin (Derived from Vegetable Oils), Polysorbate 20 (Wetting Agent), Sodium Benzoate, Disodium Cocamphodiacetate (Coconut Oil Derived Mild Skin Cleanser), Potassium Sorbate, Tocopheryl Acetate (Vitamin E), Sodium Citrate, Citric Acid
Healthy Hoohoo All Natural Gentle Feminine Wipes
Healthy Hoo Hoo wipes gently remove odor-causing bacteria and naturally protect you from infections thanks to aloe vera juice.
Pros:
Alcohol and parabens free
No toxic and irritating chemicals
Fragrance-free
They contain aloe vera juice to naturally protect you from fungal and bacterial infections
They have 85% five-star reviews on Amazon, one of the best scores among feminine wipes!
Cons:
Some users complain that the wipes don't have enough moisture and they tear easily
Ingredients: Water, Sodium Lauryl Glucose Carboxylate, Lauryl Glucoside, Gluconolactone, Sodium Benzoate, Organic Aloe Barbedensis Leaf Juice, Sodium Phytate, Cucumber Fruit Extract, Angelica Archangelica Extract, Camellia Sinensis, Leaf Extract, Pomegranate Extract, Citric Acid
Rael Feminine Wet Wipes
Real Feminine Wipes wipes contain natural, nonirritating ingredients. They contain lactic acid that will help balance your vaginal pH protecting you from developing infections. It's also got natural ingredients with antifungal and antibacterial properties: peppermint oil and oregano leaf extract.
Pros:
Flushable and fragrance-free
They contain lactic acid and Lactobacillus extract to help you maintain a healthy vaginal pH, preventing vaginal infections
They contain naturally antifungal and antibacterial ingredients
Cons:
Some users complain that the wipes are too thin and they fall apart easily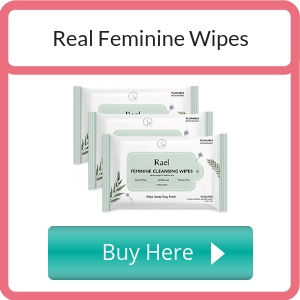 Ingredients: Water, Butylene Glycol, Oregano Leaf Extract, Willow Bark Extract, Cypress Leaf Extract, Portulaca Extract, Cinnamomum Cassia Bark Extract, Scutellaria Baicalensis Root Extract, Lactobacillus/Soybean Ferment Extract, Nutmeg Extract, Artemisia Princeps Extract, Grapefruit Fruit Extract, Caprylyl Glycol, Decyl Glucoside. Ethylhexylglycerin, Allantoin, Lactic Acid, Peppermint Oil, Sodium Benzoate, Sodium Citrate, Citric Acid, Disodium EDTA
L. Organic Cotton Feminine Wipes
These L. wipes are made from organic cotton and they are pH balanced to help you maintain the correct vaginal pH and prevent infections.
Pros:
They contain aloe vera, a natural antibacterial and antifungal ingredient
They're made from organic cotton and they're biodegradable

For every L. product you buy, one is made given to another woman or girl

Alcohol-free
Cons:
Some users claim that they tear easily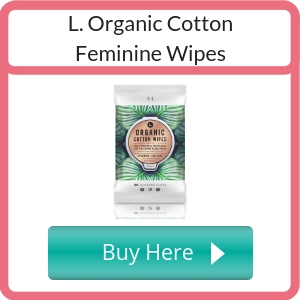 Ingredients: Water, Green Tea Essential Oil, Cucumber Essential Oil, Aloe Vera Essential Oil, Tocopheryl Acetate, Sea Buckthorn, Citric Acid, Sodium Citrate, Sodium Benzoate, Polyglyceryl-10-Laureate, Ethylhexylglycerin, Silver Citrate
Cora Bamboo Feminine Wipes
Cora Bamboo wipes are made from bamboo and they contain natural ingredients with antibacterial and antifungal qualities.
Pros:
They contain natural ingredients, such as coconut oil, lavender essential oil, aloe vera, that will help you prevent UTI, yeast infection and BV
With every purchase of their products you help provide period care and education to girls in developing countries
The wipes are free of glycerin, fragrance, alcohol, parabens, sulfates, dyes, bleach, phenoxyethanol and animal cruelty
Biodegradable
Cons:
Some women reported an allergic reaction to these wipes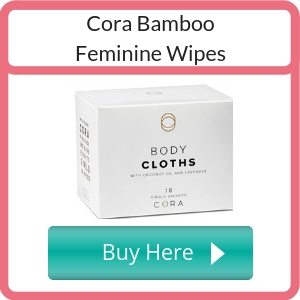 Ingredients: Water, Polyglyceryl-4 Caprate, Coconut Oil, Raspberry Leaf Extract, Aloe Barbadensis Leaf Juice, Matricaria Flower Water, Cocamidopropyl PG-Dimonium Chloride Phosphate, Propanediol, Citric Acid, Gluconic Acid, Tetrasodium Glutamate Diacetate, Sodium Chloride, Lavender Oil, Sodium Benzoate, Potassium Sorbate
When using feminine wipes take into consideration the following tips:
Always choose unscented over scented wipes. Scented wipes may contain perfumes that irritate the delicate skin around your vulva. However, some wipes use natural essential oils to add a pleasant scent and those are fine and can even provide health benefits as they often have antifungal and antibacterial properties.
Make sure you don't use them too often, they should be used in situations when you need to freshen up and don't have any other option, such as a shower. After all, wipes are made for wiping, which is enough to irritate your delicate skin.
If you notice any irritation after using feminine wipes, stop using them immediately. It may be an allergic reaction to some of its ingredients.
Remember that feminine wipes are for external use only and they cannot be used inside your vagina.
What feminine wipes ingredients to avoid?
Before buying your feminine wipes, make sure you check the ingredient list and avoid the products that contain the following, potentially irritant and harmful ingredients:
Glycerin
Sorbitol
Mannitol
Xylitol
Maltitol
Acetate
Propylene glycol
Parabens
Conclusion
Although natural feminine wipes are very handy when you need to freshen up and cannot take a shower they shouldn't be used too often. Wiping your delicate vagina area may irritate your skin making it more prone to infections.
Also, it's very important to check the ingredient list and make sure that your feminine wipes don't contain any of the harsh chemicals I mentioned above.
Remember that your vaginal tissue is very absorbent and all those toxic compounds found in most feminine wipes can easily get into your bloodstream. Make sure that you use products that contain only natural or low toxicity ingredients.
If you want to learn more about 100% natural feminine hygiene products, check my articles about all-natural feminine washes, vaginal moisturizers, and sexual lubricants.
I'd love to hear about your experiences with feminine wipes. Are there any products you recommend? Have you tried any of the feminine wipes I mentioned in my article? Please share your comments and questions in the comment section below.