Is Spirulina Good for Candida?
Is Spirulina Good for Candida?
Spirulina is a blue-green microalga found in freshwater lakes. It naturally occurs in Mexico and the African continent, however, it's grown all over the world. It's one of the world's oldest superfoods, very rich in protein, amino acids, vitamins, and minerals.
Thanks to its compositions, it offers a range of health benefits, which I'll discuss later. First, let's look at what research says about its role in treating Candida infections:
A study from 2001 found that Spirulina supports intestinal microflora, boosting probiotic colonies and therefore contributing to decreased levels of Candida albicans in the intestines.
An experiment from 2010 shows that spirulina enhances the response of immune system to Candida and other microbes in mice, it can suggest that it's also got the same effect on humans.
Another experiment from 2012 confirmed the results of the former investigation showing that spirulina is able to boost mice immunity to fight Candida which means that spirulina could be used in Candida treatment.
Although there's not much research available that focuses on spirulina's antifungal properties, it's clear that by boosting your immune system and enhancing intestinal microflora it can help you prevent and treat and yeast infection.
What are the Best Spirulina Supplements?
When choosing a spirulina supplements take into consideration the following criteria:
Choose spirulina powder over capsules: Powder is easier to digest, so it can start working immediately. You can also easily add it to your smoothies and other foods.
Check the source of your spirulina. Some manufacturers cultivate spirulina in water contaminated with toxic compounds, such as mercury (China) or in areas affected by radiation (Japan). Be cautious with spirulina coming from natural lakes as wild environments cannot be properly controlled for potentially harmful contaminants.
Pure Hawaiian Spirulina Powder by Nutrex
Nutrex Spirulina Powder comes from a GMP certified facility which ensures that the water used for cultivation is free from toxins and radiation. According to Nutrex, their spirulina powder has to pass 15 different quality tests including microbial, heavy metals, and other analyses unique to microalgae.
It's also pesticide and herbicide free, verified by Non-GMO Project. You can be sure that you're getting 100% pure spirulina powder of the highest quality possible. Plus, the number of positive reviews on Amazon speaks for itself!
How to Make a Spirulina Smoothie?
Having a spirulina smoothie for breakfast is a great way of making the most of its health benefits on daily basis. If you want to make a spirulina smoothie, you'll need:
1 cup of pineapple, strawberries or 1 fresh avocado
1/2 cup of kale or spinach
For an extra nutritious kick add a tablespoon of chia seeds or bee pollen.
Blend all the ingredients together in a blender until smooth and enjoy your delicious spirulina smoothie!
What are Other Health Benefits of Spirulina?
Apart from having antifungal properties, spirulina can support your health in numerous ways:
It's packed with nutrients such as protein, riboflavin, thiamin, niacin, copper, and iron.
It's also a rich source of antioxidants helping you remove harmful free radicals from your body and boosting your endurance and muscle strength
Studies show that spirulina can decrease cancer occurrence and tumor size
It can boost the hemoglobin content of red blood cells, helping elderly people improve anemia symptoms
It's got anti-inflammatory properties
It can benefit people suffering from diabetes because it reduces blood sugar levels
It can decrease LDL and Triglyceride levels helping you improve your cardiovascular health
Studies show that 4.5 g of spirulina per day can reduce your blood pressure decreasing your chances of suffering a stroke or a heart attack
2 g of spirulina a day will help you reduce symptoms of allergic rhinitis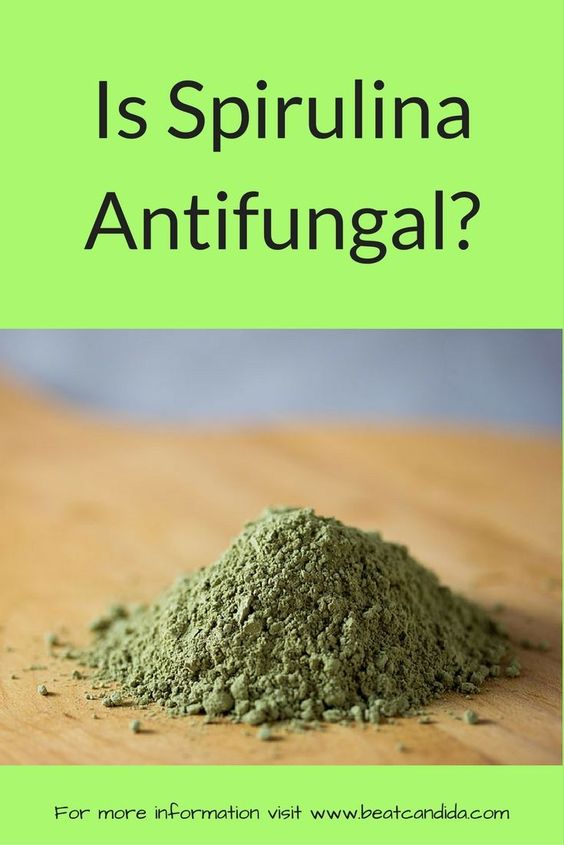 Conclusion
Spirulina is an excellent superfood that will not only support your health in many ways but will also help you fight yeast infections. Just make sure you use spirulina supplements free from contaminants and try to pick supplements in powder form instead of tablets to make the most of its antifungal properties.
If you're wondering if there are other natural remedies for Candida check my articles about aloe vera, cranberry juice, and coconut oil.
I'd love to hear about your experiences with spirulina. Have you ever used it for a yeast infection? Did it work? Please share your comments and questions in the comment section below.