Can Swimming Pools Cause Yeast Infections?
If you often go to the swimming pool you may start getting vaginal yeast infections. You're surely asking yourself why. Some believe that you get a yeast infection from other women swimming in the pool. FALSE.
Vaginal yeast infection isn't a contagious disease, and you'll surely not get a yeast infection from some random Candida albicans cells floating in the pool waiting to get into your vagina to invade it and give you all those nasty symptoms!
But swimming pools can indeed cause vaginal yeast infections, most probably due to the chemicals in the pool that can alter your vaginal pH making it easier for Candida (which is a part of your vaginal flora) to start multiplying.
Let me explain how it works. Chlorine is a
common chemical used to sanitize pool water, it's very effective in killing all sorts of bacteria and microorganisms, making the water safe for you to enjoy. However, not all bacteria are bad.
There are some friendly bacteria in your body that help fend off invasions by other, less friendly microorganisms, such as Candida.
Once the balance of friendly and unfriendly organisms is upset, you may get a yeast infection or bacterial vaginosis, as well as other sorts of inflammations and irritations within the vaginal area.
What's the Best Way to Get Rid of Yeast Infection?
One of the best OTC treatments for vaginal yeast infection is boric acid suppositories. They're 100% natural and they are able to treat chronic yeast infections caused by yeast strains that are difficult to treat with conventional antifungal medications.
There are many different probiotic suppositories you can buy online, but I usually recommend BoriCap. It's because they offer same day shipment if you order before 2 pm, so you can get rid of your yeast infection fast.
The treatment takes 7 days, you have to insert one suppository in the morning and one in the evening. You'll notice a great relieve in your symptoms within 48 hours, but make sure you continue using the suppositories for a full week to make sure the infection doesn't come back.
How to Prevent a Vaginal Yeast Infection After Swimming?
After a swimming session, insert a p

robiotic suppository

overnight to reestablish a healthy bacterial flora in your vagina.
Take off your wet swimming suit straight away after swimming. Humidity is a perfect breeding ground for Candida.
Delicately dry your vagina with a dry towel, avoid rubbing it to avoid irritation.
Avoid spending a lot of time in jacuzzi and warm swimming pools. Warmth, humidity, and chlorine will make you much more prone to develop a vaginal yeast infection.
Try to find ozone or UV-sanitized pools in your area. They still use chemicals, but much less than the traditional swimming pools.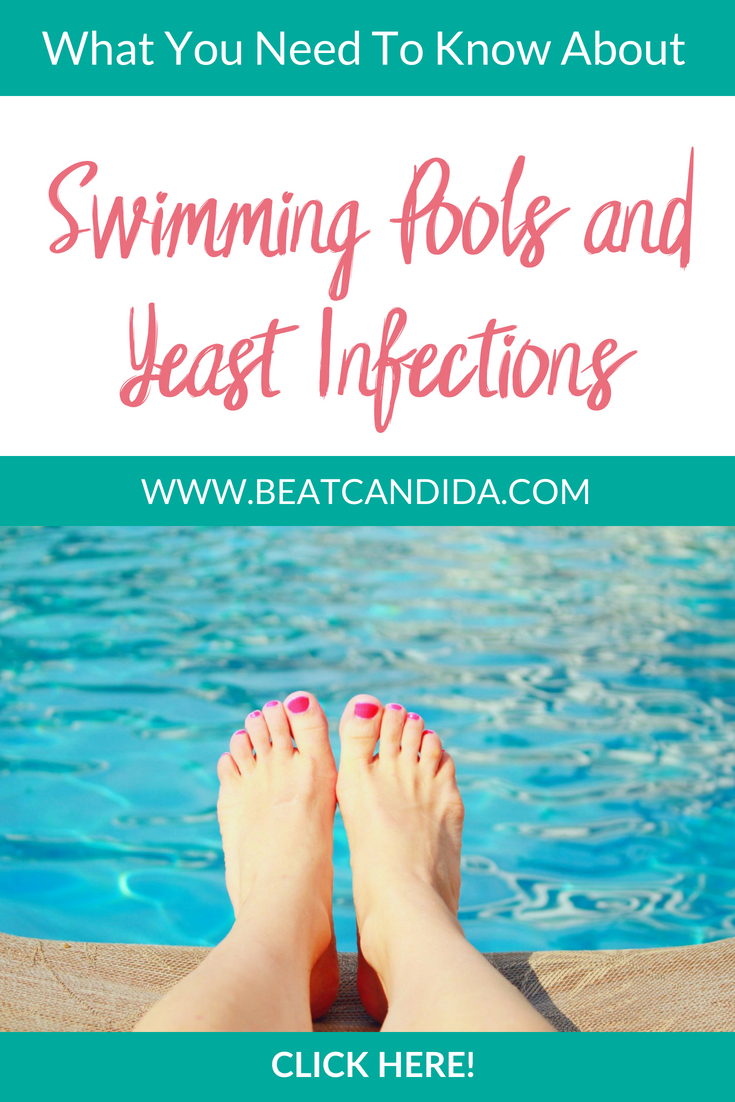 Can I go swimming with a yeast infection?
You can go swimming during a yeast infection, but I wouldn't recommend it. As I said before, chlorinated water messes up with your vaginal microflora and can cause friendly bacteria (probiotics) to die off.
When you've got a yeast infection you really need as much of that bacteria as possible because they produce lactic acid which changes vaginal pH and makes it difficult for Candida to thrive.
It's recommended to use probiotic suppositories along with antifungal suppositories to speed up the recovery process and prevent future infections. So if you want to recover swiftly, make sure you avoid going to the swimming pool (go for a swim in the sea or a lake instead) for at least a week after your symptoms disappear.
Read More: Not Sure if it's a Yeast Infection? Get Tested!
Conclusion
Although swimming in the swimming pool can cause a vaginal yeast infection, it's such a relaxing and health-boosting activity! Try to stick to the tips above and you should be able to avoid getting yeast infections in the future.
Please share your experiences in the comment section below. Perhaps there're other things you can do to avoid yeast infections after swimming that I didn't include in the list? Let me know what worked for you.
[mv_create key="1″ type="diy" title="How to Prevent Yeast Infection After Swimming?" thumbnail="https://beatcandida.com/wp-content/uploads/2015/11/Can-Swimming-Pools-Cause-Yeast-Infections-.jpg"]