What's the Best Vaginal Antifungal Cream?
What's the Best Vaginal Antifungal Cream?
When suffering from a vaginal yeast infection, using an antifungal cream can bring a much-needed relief. Vaginal antifungal creams are used to supplement your antifungal treatment with either vaginal suppositories or oral medication.
As a vaginal yeast infection starts inside the vagina, it needs to be treated from the inside. A vaginal cream made for topical use will bring a temporary relief, but it won't cure your infection.
When choosing a vaginal antifungal cream you need to decide if you want to use pharmaceutical treatment with such antifungal compounds as Miconazole or Clotrimazole, or if you want to opt for a 100% natural antifungal cream based on propolis or tea tree oil.
The best natural antifungal vaginal cream is VMagic vaginal cream as it contains natural antifungal remedies such as propolis and honey, scientifically proven to be very effective when it comes to treating vaginal yeast infections.
In this review, I'll discuss the best options for each of these categories.
Take a look at my picks:
Natural Vaginal Creams:
VMagic Vaginal Vulva Care and Intimate Skin Cream
Vmagic is packed with natural antifungal ingredients, such as propolis, honey, beeswax and Sea Buckthorn oil.
It's got a soothing antifungal and anti-inflammatory effect, so you can be sure it will bring you a quick relief from itching and soreness.
Ingredients:  Organic Extra Virgin Olive Oil, Organic Extra Virgin Avocado Oil, Organic Sea Buckthorn Oil, Organic Beeswax, Medicine Mama's Proprietary Honey & Propolis Blend. All ingredients are certified organic by the CCOF.
Organic Unrefined Coconut Oil
Studies show that coconut oil has got excellent antifungal qualities and has been successfully used by women with a vaginal yeast infection. In my article about using coconut oil for vaginal yeast infection, I share my recipe for homemade coconut oil and tea tree suppositories.
If you're looking for a natural ointment to relieve vaginal itch caused by yeast infection, coconut oil is a great choice. Just make sure you use 100% organic unrefined coconut oil that retains all its natural healing properties.
Pharmaceutical Vaginal Creams:
Femmesil Vaginal Cream
Femmesil vaginal creams offer the best of both worlds. It contains 2% concentration of Miconazole, an antifungal agent and some natural antifungal ingredients such as tea tree oil and beeswax.
It contains no potentially irritating ingredients, it's fragrance-free, paraben-free and alcohol-free. This mixture of ingredients may make this cream more potent and effective than VMagic and coconut oil.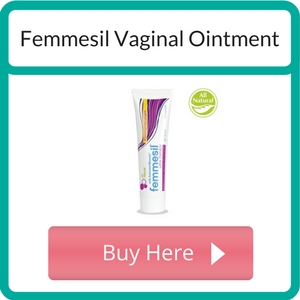 Daktarin Cream
Daktarin cream is often recommended by doctors in cases of vaginal yeast infection. It contains 2% Miconazole Nitrate as its antifungal ingredients. Other ingredients may, however, be irritating, as Daktarin uses harsh chemicals such as benzoic acid.
I always try to recommend to my readers, products that contain natural, soothing ingredients, so Daktarin is a cream I would only recommend if you cannot find anything else and you're desperate for a quick relief.
How to use Vaginal Antifungal Cream?
Natural vaginal antifungal creams can be used as often as you need while pharmaceutical ones can be applied according to manufacturer's instructions. Remember that vaginal creams for external use will not cure your yeast infection, and they should be used as a supplement to your intravaginal or oral treatment.
Your doctor may prescribe an oral antifungal medication called Diflucan, or you can choose vaginal suppositories such as Monistat or boric acid suppositories. The sooner you start your treatment the better your chance of a swift recovery!
Is there anything else I can do to speed up my recovery?
There are many things you can do to help your body recover from a vaginal yeast infection. One of the key things is to ensure that the air can circulate freely around your vagina, to keep the area dry and cool. You can do it in the following ways:
Get changed straight after your gym session
Use 100% cotton underwear
Don't use tight-fitting trousers, leggings, and tights. Go for loose fitting breathable fabrics such as cotton and silk
Reduce your alcohol and caffeine intake
It's best to abstain from sex during a yeast infection, but if you decide to do it, make sure you use a condom and a natural sexual lubricant.
Apart from that, you can start using probiotic supplements that will help you establish a healthy bacterial balance in your gut and vagina. Probiotic supplements provide friendly bacteria that will create unfavorable conditions for yeast to thrive and wreak havoc.  You can also introduce probiotic-rich foods in your diet, such as:
These steps will help you speed up your recovery and help you stay yeast infection free for good. If you want to learn more about preventing yeast infections, check my article.
Conclusion
A vaginal yeast infection can be really annoying and painful. When you're looking for a quick solution to vaginal itch, I recommend you to go natural.
Order VMagic Vaginal Cream Today
Some natural antifungal remedies are as effective as their pharmaceutical counterparts, but at the same time, they're sure to be more gentle on your irritated skin. Read my article about natural antifungal remedies if you want to learn more about them.
Have you used any of the antifungal creams I recommend in this article? Do you know any other vaginal creams that work? Please share your experiences and questions in the comment section below.