Why do I get a yeast infection before period?
You may be asking yourself why you're getting bouts of vaginal yeast infection right before or after your period, or why your symptoms seem to go away with period.
This article will explain why it's happening and what are the best ways to avoid getting yeast infections related to hormonal imbalance that you experience just before, during and after your period. I'll also tell you what's the best way to treat your vaginal yeast infection, even if you suffer from chronic, difficult to treat vaginal yeast infections. Keep reading!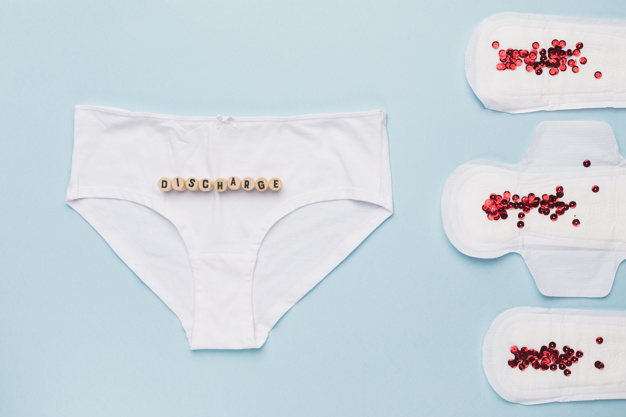 Why Hormonal Changes Trigger Yeast Infections?
Just before your period, the estrogen levels decrease. It lowers the pH in your vagina causing some of the friendly bacteria
to die off. This creates a perfect environment for Candida to thrive.
What's more, just after your ovulation progesterone levels go up and high levels of progesterone have been shown to weaken the immune system and your body's ability to fight Candida decrease.
So it's common to get a yeast infection before period because those hormonal changes lower your vaginal pH and your immunity providing a friendly environment for Candida to grow.
Read More: Do tampons cause a yeast infection?
Will yeast infection go away with a period?
You may be asking yourself if your yeast infection will go away with a period, so you don't have to go to the doctor's and get treatment. Are you hoping you'll just put up with the itch for a few days and you'll be fine? I'm afraid not.
The symptoms of a vaginal yeast infection may ease or even disappear completely during your period because blood flow changes the pH level in your vagina and Candida can't grow in a high pH environment.
However, if you don't treat your vaginal yeast infection, the symptoms will most certainly come back once your period is over. It's because many Candida cells will survive and will be able to multiply in no time, causing a new Candida bout.
How to avoid getting a vaginal yeast infection around your period?
Wear only 100% cotton underwear, and steer clear of leggings, tights and tight trousers which don't allow air circulate freely around the vagina.
Find more tips on avoiding vaginal yeast infections in my recent post.
What's the Best Vaginal Yeast Infection Treatment?
The best over the counter treatment for vaginal yeast infection is boric acid. Boric suppositories are very effective and they work when other treatments fail.
It's because boric acid is able to kill not only Candida albicans cells (the Candida strain that causes most vaginal yeast infections) but also Candida glabrata and Candida tropicalis, Candida strains that are difficult to treat with conventional over the counter medications.
If you order BoriCap before 2 pm, they'll ship it on the same day, so you can start your vaginal yeast infection treatment as soon as possible.
Conclusion
Unfortunately, although your period can bring you temporary relief from symptoms, it will not make a vaginal yeast infection go away. But there are many things you can do to avoid getting it in the first place. Once you do get it, make sure you go to see your doctor and get diagnosed and treated.
You may also try using some natural remedies for vaginal yeast infection or over-the-counter antifungal medications after consulting your doctor.
If you've got any questions or comments, please share in the comment section below.